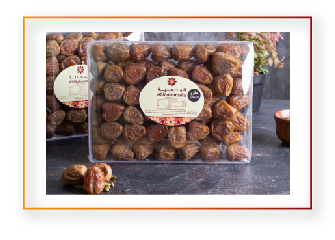 Sukkary Rutab date is very sweet, juicy, and yielding. Sukkary Rutab dates are the very sweetest and indeed Sukkary means 'the sweet one'. The distinctive yellowish skin of this acorn-shaped date is very creased. Sukkary Rutab dates are famous for their two-toned color and texture. At their base, they are golden and slightly dry, while the rest of their body is brown and soft.
The moisture content of Sukkary Rutab dates is 35%-40%. This is the variety that is often consumed with traditional Arabian coffee. Full of nutrients, like every date, it contains 70% of natural energy-rich sugars.
Al Mohamadia premium dates have grown significantly over 18 years and providing high-quality dates from Saudi Arabia. Best Sukkary Rutab dates are now available online at the best price. Order Online Sukkary Rutab Dates in bulk from Saudi Arabia in wholesale prices. We are the biggest seller and exporter of Sukkary Rutab dates providing high-quality, fresh, and tasty dates all over the world.