Our Processing Facility
Our processing facility, which is located adjacent to our farms, sets a new standard of quality in the industry with ISO 22000, HACCP, FSSC 22000 (GFSI Standard – Global Food Safety Initiative) and SASO certifications.
A combination of manual and mechanized sorting and processing methods balances efficiency with a commitment to ensure that only the best quality dates make the journey from our facility to our showrooms and retail environments around the country.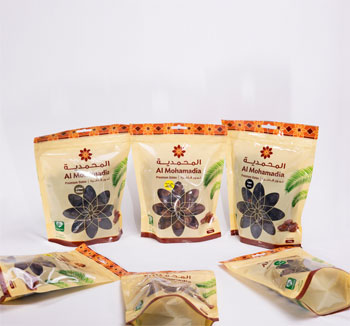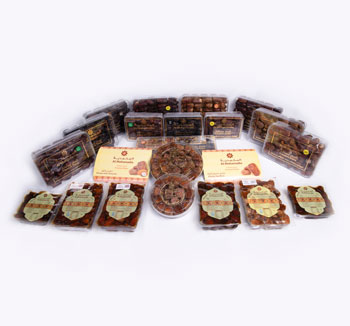 Harvesting & Storing
Stringent harvesting, fumigation and storage standards ensure that our dates reach our factory in optimal condition before various conversion and packaging processes commence.
Fumigation
Before to entering the facility, all dates are subjected to thorough fumigation inside a sealed vacuum chamber. This is done to ensure that the dates are clean and infestation free before processing commences.
Sorting & Packing
Our plant boasts state-of-the-art machinery that sorts our dates according to size and quality. These are then packed according to grade and weight by recently acquired automated German machines, which are some of the most technologically advanced worldwide.
Value-Added Dates
Our new and dedicated production hall conducts manual sorting, slitting and de-pitting, manufacturing and packing of value-added date products.
Logistics
Al Mohamadia owns a fleet of reefer trucks, meaning that we can fully control the journey of our dates from our doorstep to yours, guaranteeing that they arrive in pristine condition every time.
Quality & Systems
The factory has a fully equipped and functional quality laboratory, which ensures that all dates are processed and packed according to our high standards and maintain the requirements set out by ISO 22000, HACCP, FSSC 22000 (GFSI Standard – Global Food Safety Initiative) and SASO.