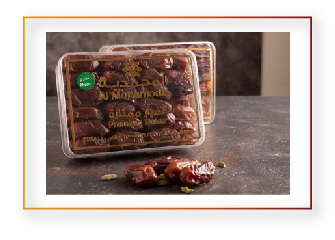 Khodari dates are highly sought after for their plumpness, larger size, caramel-like taste, and chewy consistency. Freshly harvested and semi-dried. No preservatives, no artificial color. These dates have a strong intense flavor with balanced sweetness.
Khodari dates have a unique taste besides its high nutritional value as it keeps the heart and the digestive system healthy and it fights anemia. Excellent source of energy. You can enjoy eating them as is or cut them open to be stuffed with other treats like walnuts, almonds or whipped cream. Khodari dates are filled with fiber, potassium, magnesium amongst a load of other vitamins and minerals essential to your body function.
Al Mohamadia premium dates have grown significantly over 18 years and providing high-quality dates from Saudi Arabia. Best Khodari dates is now available online with the best price. Order Online Khodari dates in bulk from Saudi Arabia in wholesale prices. We are the biggest seller and exporter of Khodari dates providing high-quality, fresh and tasty dates all over the world.