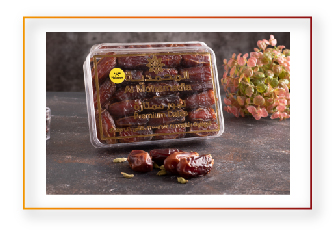 Mabroom dates are grown in Saudi Arabia contain nutrients like potassium and trace elements including magnesium, selenium and zinc.
Dry or Soft (wet) dates are normally eaten out-of-hand, Mabroom is best when it is eaten as-is, it has a rich, smooth texture. Mabroom dates like many other date varieties can be consumed whole as freshly dried dates, either pitted or unpitted. They can also be eaten in various other forms e.g. stuffed with nuts such as almond or cashew or dipped and coated in chocolate.
Al Mohamadia premium dates have grown by their own date farms significantly over 18 years and providing high-quality fresh dates from Saudi Arabia. Best Mabroom dates are now available online with best price. Order Online Mabroom dates in bulk from Saudi Arabia in wholesale prices. We are the biggest seller and exporter of Mabroom dates providing high quality and fresh and tasty dates all over the world.